IPO Archives
About
Founded in 1980, the IPO Archives contains a rich collection of photographs, correspondence, musical scores, posters, documents, recordings, program books, newspaper articles and souvenirs from the Orchestra's many events and tours over the years. The history of the IPO is intertwined with that of the State of Israel, and a visit to the Archives is a journey into the past of both the orchestra and the nation.
The Archives supply material for events connected with the history of Israel and the IPO, to authors and filmmakers, as well as to students, researchers and academics.
In 2012, thanks to a generous donation of Mrs. Natalie Katz, the IPO Archives established the Murray S. Katz Digital Photo Archive. This collection, comprising over 15,000 historical photographs taken by numerous photographers since the orchestra's first days, is undergoing digitization and will soon be accessible here on the IPO website.
Visit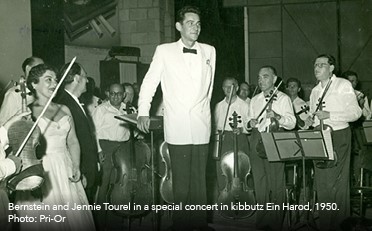 Discover the history of orchestra through a special visit to the IPO Archives!
Explore more than eighty years of materials stored in the IPO Archives, including correspondence with guest conductors and soloists, musical scores, and photographs of exciting moments from Israel and around the world. You will encounter countless stars of the music world, along with presidents, princes and luminaries during your visit.
The Archives are located on the lower level of Charles Bronfman Auditorium.
Dates for Archive visits will be announced shortly.
History 
Mr. Heinz Berger, a former oboist and English horn player in the orchestra, founded the IPO Archives in the early 1980s. Previously, archival material had been kept, along with other materials, in boxes scattered in the orchestra's storage rooms.
Mr. Berger recruited several retired orchestra members, including Heinrich Schieffer and Matti Grabler, to help. A large part of the information in the Archives today was preserved thanks to the meticulous work of these pensioners, who carried out their job voluntarily and devotedly.
The materials were first organized in the IPO Guest House on Shai Agnon St. in Tel-Aviv. When the Guest House closed in 2000, the IPO Archives was transferred to Ohel Shem on Balfour St., and in 2009 to Beit Hatfutzot at Tel Aviv University. Upon the completion of the renovations of the Hall (Heichal Hatarbut) in 2014, the Archives found a permanent home on the lower level Charles Bronfman Auditorium. 
Contact
Contact the IPO Archives: +972-(0)3-6290147 or ipoarc@gmail.com